** 2,5 whatevvah stars **
Audio edition by Andrew McFerrin
Story: 3
Performance: 2
Overall: 2,5
It's finally over.
While listening to this book I couldn't decide if narrator did a great job or a Over The Top job narrating the voice of Danny, the main character with first person POV. Towards the end, I'm settling on it being too much. I don't know what bothered me more, the character being kind of an immature, vain, shallow, self centered drama queen, emphasis on queen here because Danny has a wide flamboyant streak, or the combination of that type of character coupled with this narrator. For me it just.didn't.work. I actually had to take breaks listening to this audio book, which I don't think I've ever done before!
God, it was a never ending stream of "audio limp wristness", "
Ohhh myyy goood
"s and "
whatevvah
"s, with the words all drawn out and annoying.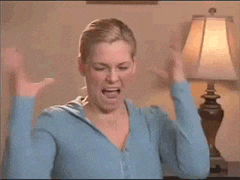 And it seemed like the book just went on, and on, and on, too!
I couldn't see the light at the end of the tunnel. When I had listened to it
forever
I had to check and it still had five or six chapters left! Gahhhhh..
On top of that there's a <spoiler> three year time jump </spoiler> at the end too!
My rating might have been higher hadn't I got so frustrated with the audio, it kinda ruined it.
With my frustrations out of the way, it wasn't all bad.
Just, well.... no, it was. Pretty much. Yeah. Bad. It was bad.
I had problems with the story too. It was so disjointed and it didn't make sense. They're kinda pining for each other, but can't find common ground, but still Danny falls in love and maybe/maybe not Lance? And kinda out of the blue they finally "go all the way" and then Danny just ups and leaves?! And then it's three years later and they still can't figure it out because "there is no plan B". Annoying, frustrating and just... immature.
Yeah, I think it boils down to that.
The characters, both in behavior and actions, were just too immature for me.
Would I recommend it? I have no idea. Despite of all this I still kinda wanted to know how it all would end, so I continued to listen.
Danny's "
ohh myyy goood
"s and "
whatevvah
"s are still ringing in my head, so I would like to see a second opinion on rating. Or just, you know,
PS. I've listened to some audio samples of this narrator for other book, and they seemed pretty good! So I'm not put off this narrator. I think it was just this combination of main character and narrator that didn't work (for me).